How Does OSAP Work?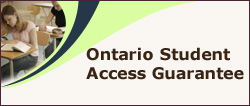 OSAP financial aid is based on a formula:
There are options for full-time, part-time and graduate students.
OSAP also provides scholarships, bursaries and grants, based on your academic achievement or special circumstances. For more information, see the A to Z list of programs.
Who is Eligible?
Roles and Players
Types of Aid
Non-OSAP Aid
career100.jpg
To find out if you are eligible, fill out an online application form.
You must meet certain citizenship and residency requirements. A complete list of requirements can be found in the A to Z List of Programs.
To receive aid, you need to attend a school that is OSAP approved.
To find out if your school is approved, go to School Search. Public colleges and universities, some private career colleges and some out of province and out of country schools are approved for OSAP. You need to check each year if a school is approved.
Your Program Must be OSAP Approved
Most programs at public colleges and universities are approved for OSAP. When you fill out an online application, the ministry checks that your program of study is approved. If the program isn't approved, you can't get OSAP.
You must meet certain eligibility requirements such as citizenship and residency. A complete list of requirements for each program can be found in the A to Z List of Programs.
You May Not Be Eligible for OSAP
If you defaulted on a student loan, did not repay an OSAP overpayment and/or provided false information on your OSAP application, you may be restricted from receiving OSAP.
Other reasons you may not be eligible for OSAP include:
· You have not met the academic progress requirements.
· You've been convicted of a criminal offence involving fraud or theft under the Criminal Code (Canada) with respect to any student financial assistance program in Canada.
· You've reported a significant variance in the income to the Canada Revenue Agency from what appears on your OSAP application and any other income reported by you to the ministry or your financial aid office.
· You have declared Bankruptcy or Consumer Proposal, or Consolidation Orders under the Orderly Payment of Debts.
· You're receiving other government aid that covers expenses related to your postsecondary studies.
· You've failed the credit check.
· You are receiving Stage 2 of the federal Repayment Assistance Plan.
· Your file is being reviewed for other reasons.
If you're not eligible now, contact your financial aid office to discuss how you can become eligible.
career101.jpg
The Student Financial Assistance Branch of the Ministry of Training, Colleges and Universities administers OSAP on behalf of the Government of Canada and the Province of Ontario. Both governments fund a range of financial aid options for Ontario students.
The Government of Ontario, in partnership with the province's public colleges and universities, delivers the Student Access Guarantee.
The ministry works with schools to deliver financial aid to students. Your school's financial aid office helps administer all financial aid programs. This includes processing applications, signature pages, supporting documentation and change requests; coordinating reviews; monitoring eligibility; and releasing funding to students.
Financial aid offices are the first point of contact for students studying in Ontario with questions, problems and concerns about OSAP.
Students studying outside Ontario should contact the Student Financial Assistance Branch at the ministry for any questions about OSAP.
The National Student Loans Service Centre (NSLSC) is a federally run centre that administers loans. This includes processing your loan certificate, arranging for loan funds to be deposited to your bank account and keeping track of loans and repayments. The NSLSC also administers interest relief and debt reduction programs; and helps you set up a manageable loan repayment schedule. They can help with any questions or concerns regarding your debt and repayment of OSAP loans. Log into their website to get information on your account.
career102.jpg
OSAP offers financial aid through grants, bursaries, scholarships, work-study, loans and repayment assistance. Check out our OSAP Aid Finder to find out what kind of assistance you may be eligible for.
· Grants and Bursaries provide money that you don't repay. You can only receive aid if you demonstrate financial need.
· Scholarships and Fellowships are based on academic merit and other factors. Usually, you don't have to repay these. However, you may need to pay taxes on them.
· Work-Study programs can help you meet your costs by arranging for part-time work at your school.
· Loans are money you borrow from the government(s) of Canada and/or Ontario. Unlike with banks, you don't have to put your assets against the loan. Loans aren't taxable

Any interest accrued while you're in school is paid by the federal and provincial governments. If you completed your studies on or after August 1, 2010 the Province of Ontario will pay the interest on your Ontario student loans during the six-month grace period immediately following the end of your studies. Once the grace period ends, students are responsible for paying the interest and principle on both their Ontario and Canada student loans.
· Repayment Assistance is available if you are no longer in school and are having trouble repaying your loans.

Repayment assistance comes in two streams: one for the Canada portion of your Canada-Ontario Integrated Student Loan; and one for the Ontario portion. Both the federal and Ontario repayment assistance programs are called the Repayment Assistance Plan (RAP).
All public Ontario universities and colleges have their own financial aid programs. Many organizations (such as employers, volunteer organizations, fraternal groups, and religious organizations) also offer scholarships and bursaries.
Go to Student Access Guarantee and/or Financial Planning to read more about other, non-OSAP aid options.